Kuih Keria is arguably my favourite doughnut. Not just because it's delicious, but it is as healthy as a doughnut can be. While Krispy Kreme and Dunkin' Donuts are made from flour and sugar, our local doughnut is made mostly from sweet potato.
Although this recipe needs very little ingredients, it can be challenging for a new cook. Why? It involves deep-frying. Also, the last step of coating the doughnuts with sugar glazing is not easy either.
However, when made right, it is absolutely delicious. I love bringing this to parties – it's easy to pick up with fingers and pop into the mouth and always a hit.
My favourite part of making this dessert is glazing the crispy doughnuts with sugar. It's almost magical to see sugar syrup turn into beautiful snow-like flakes which stick onto the doughnuts!
I like biting into a warm doughnut which is crispy on the outside, soft in the inside, and have different kind of sweetness from sweet potato and sugar. Oh, so good!
---
TOOLS
Frying pan
Spatula
Chopstick
Wire rack/paper napkins
Fork/ potato masher
---
RECIPE CARD
Kuih Keria/ Malaysian Sweet Potato Doughnuts
28th February 2018
: 15 pieces
: High
Ingredients
DOUGH
600 g sweet potatoes
6 tbsp wheat flour
1 tsp fine sea salt


GLAZE
6 tbsp granulated sugar
5 tbsp water
Directions
Step 1

STEAM SWEET POTATOES: Peel and chop sweet potatoes into 1 inch slices. Steam on high fire until soften (about 20 minutes).

Step 2

MASH: Mash with a fork or a potato masher.

Step 3

MAKE DOUGH: Add wheat flour and salt. Mix well. Knead until a dough is form. You can also knead it with a stand mixer.

Step 4

SHAPE INTO DOUGHNUTS: Coat your hands and work surface with flour to prevent sweet potato from sticking to your hands. Scoop sweet potatoes into your hands and roll into equal size balls (50 g is not too big and not too small). Then shape them into doughnuts.

Step 5

FRY: Heat enough oil in the pan. Deep fry until golden brown. Place them on a wire rack or paper towels.

Step 6

MAKE SUGAR SYRUP: In another pan, add water and sugar. Boil until the syrup is thick and bubbling.

Step 7

GLAZE DOUGHNUTS. Turn off fire and throw in all the doughnuts. Mix all the doughnuts in the sugar syrup. Keep on stirring until the sugar crystallises and coat all the surface of the doughnuts.

Step 8

COOL & SERVE: Serve when doughnuts is cool enough to touch.
---
SHORT RECIPE
Steam and peel 600 g of peeled and chopped sweet potatoes. Mash. Add 6 tbsp flour + 1 tsp salt. Knead. Shape into 15 doughnuts. Fry until golden brown. Make sugar syrup: boil 6 tbsp sugar + 5 tbsp water until thick & bubbling. Off the fire. Mix doughnut until sugar crystallises and coats doughnuts.
---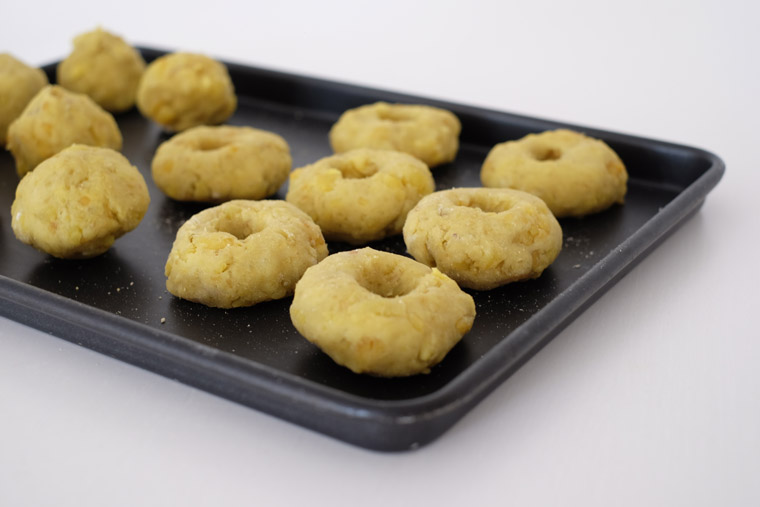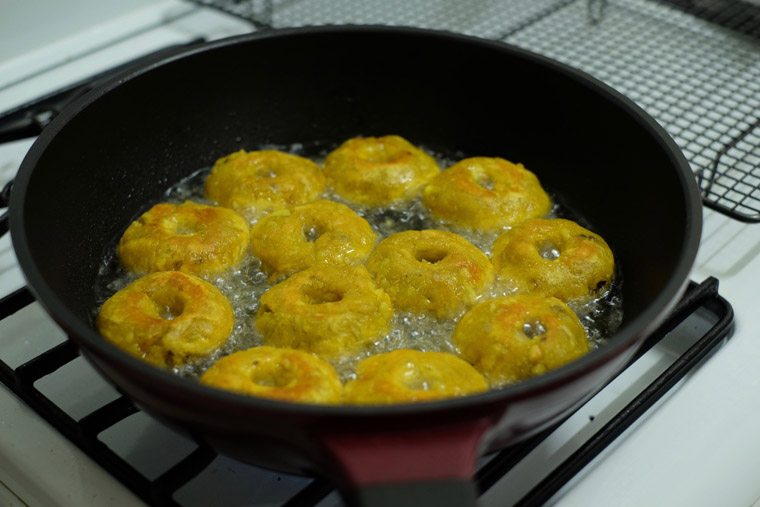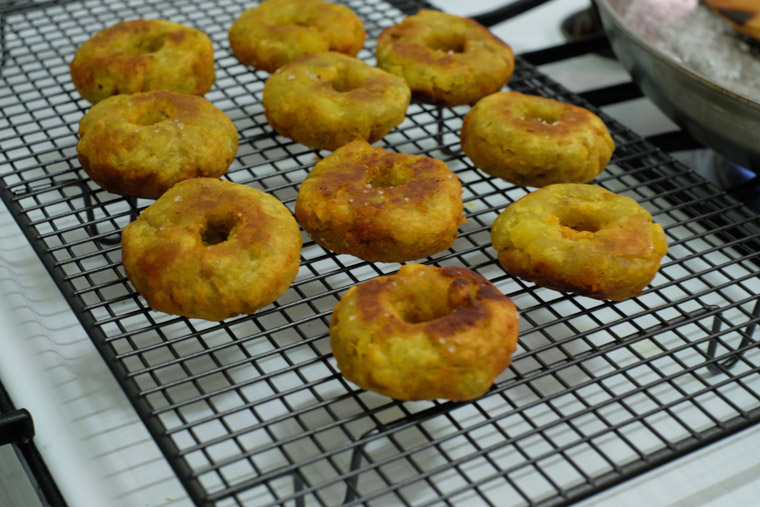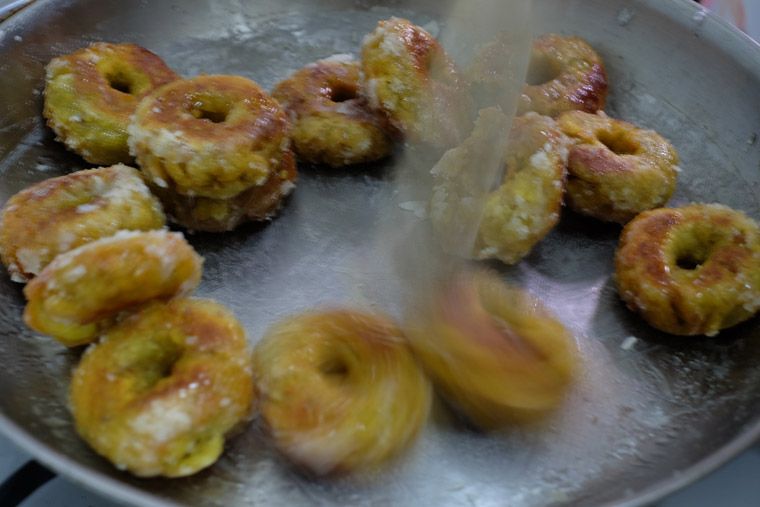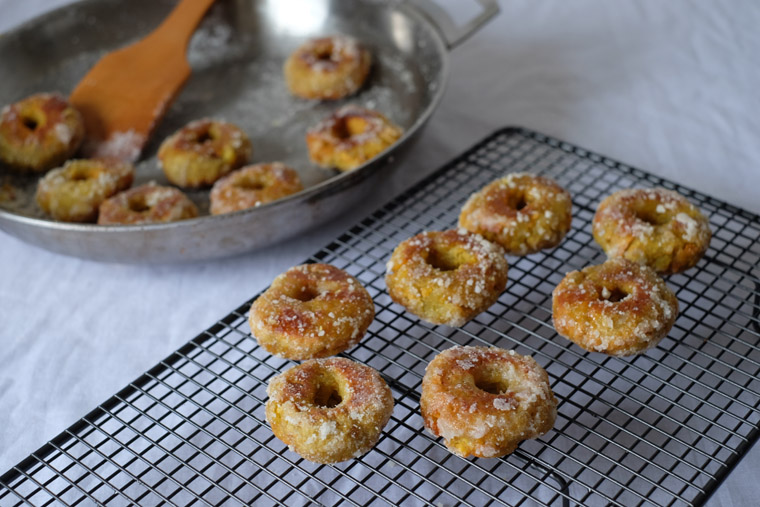 ---
COOKING TIPS
Use a stand mixer If you have a stand mixer with a dough hook/ knead attachment, use it! It's so much easier than kneading with hands. Perhaps kneading a small amount of dough is fine. However if you double or triple the recipe, a stand mixer will be a time and energy saver. I normally use a stand mixer.
Flavour sugar syrup with pandan leaves. Tear one pandan leaf into a few slits and tied into a knot. Put it together with the sugar and water when making sugar syrup. It will add fragrance into your dessert.
To make crispy doughnuts, you must:

Add doughnuts into the oil only when the oil is hot enough. Use oil with high smoke point like palm oil.
Fry until the doughnut is slightly brown. Don't afraid of brown spots on the doughnut. It's delicious and it will be covered with sugar flakes later.
Place the doughnuts on a wire rack or paper napkin. Make sure they are separated to avoid the steam from the doughnut from softening the other doughnuts.
Add doughnuts into sugar syrup only when the sugar syrup is thick enough. Do not do so when the syrup is still watery.

 Adjust the size of the doughnut to your liking. I like to make sure that each doughnut is evenly fried. So I measure each ball. About 50 g is just right for a doughnut that is neither too big or small. For a regular size doughnut, 60 g is good.
If you like your dessert very sweet, make more sugar syrup. I've adjusted this recipe so that it's not too sweet. I prefer the sweetness to come from the sweet potato instead. If you have sweet tooth, add another 2 tbsp of sugar when making sugar syrup.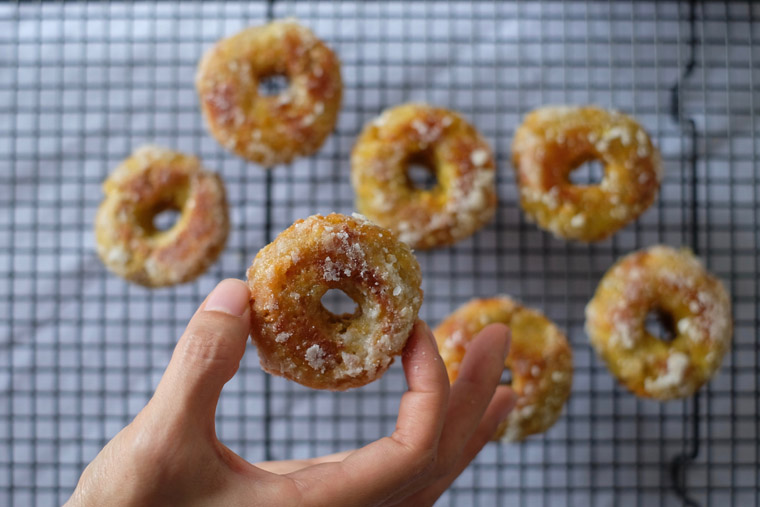 Enjoy!
---