This is my second time dining at ATAS Modern Eatery, a beautifully designed restaurant hidden in a hotel called RUMA. I've never known about this new hotel, but I was thrilled to find my new favorite restaurant.
I came here a few months ago for their degustation menu, which exceeded my expectations. What makes this fine dining restaurant different from others e.g Akar or Nadodi, is that the dishes can be ordered ala carte too.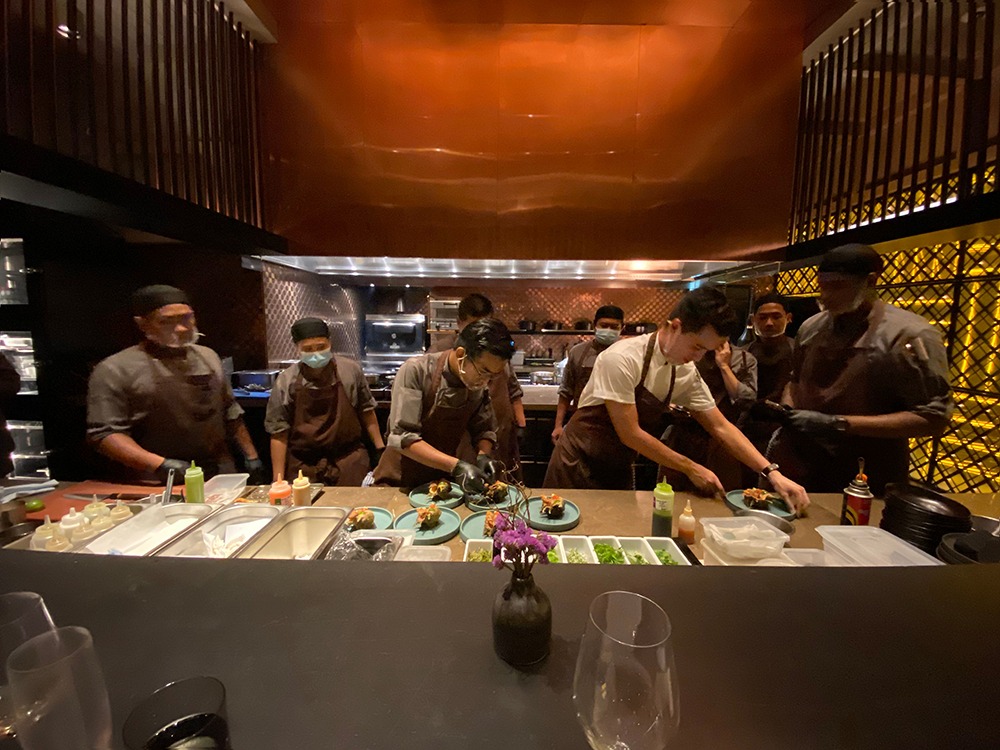 If I missed their amazing durian ice-cream and lawas highland red rice, I could come back anytime just for it. They also have monthly Chef's Table even with different themes. This restaurant is by far the most exciting yet accessible fine dining restaurant.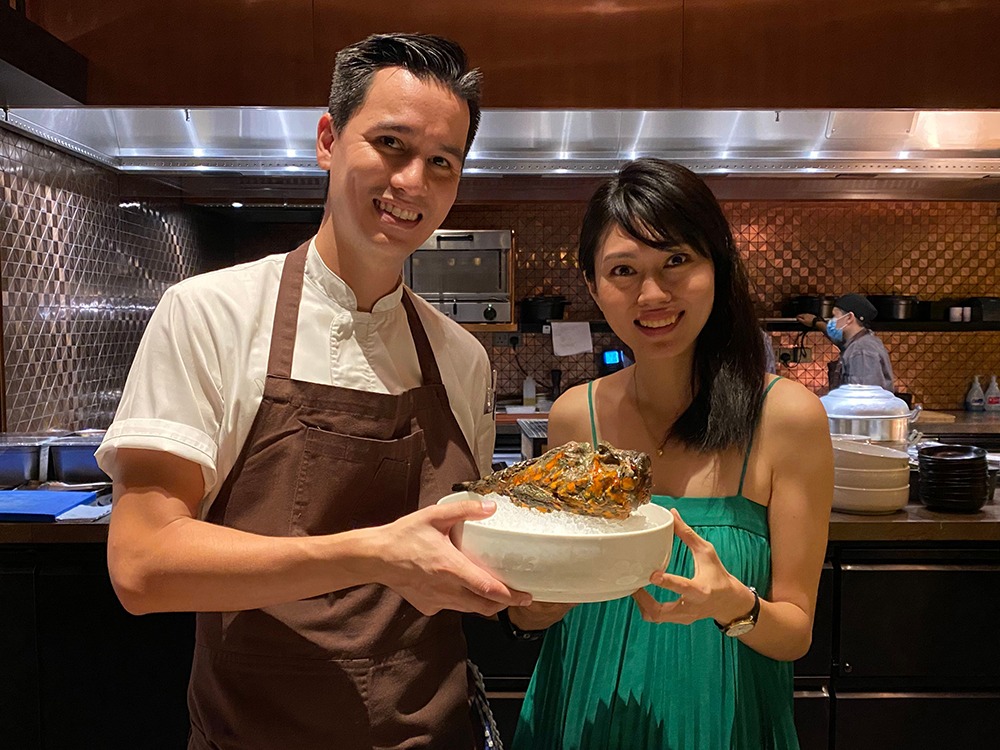 The restaurant is helmed by Chef Tyson Gee, a Canadian who knows a lot more about local ingredients than even me, a Malaysian cook. Chef Tyson has a great interest in local ingredients and has been sourcing top quality, yet unknown local produce around Malaysia. I'm so glad to learn of the many different produce that my home country offers, e.g, stonefish, and how they can be made into such exquisite dishes.
Right after my first experience at ATAS Ruma, I immediately book the next Chef's Table event featuring seafood from Sabah, near Semporna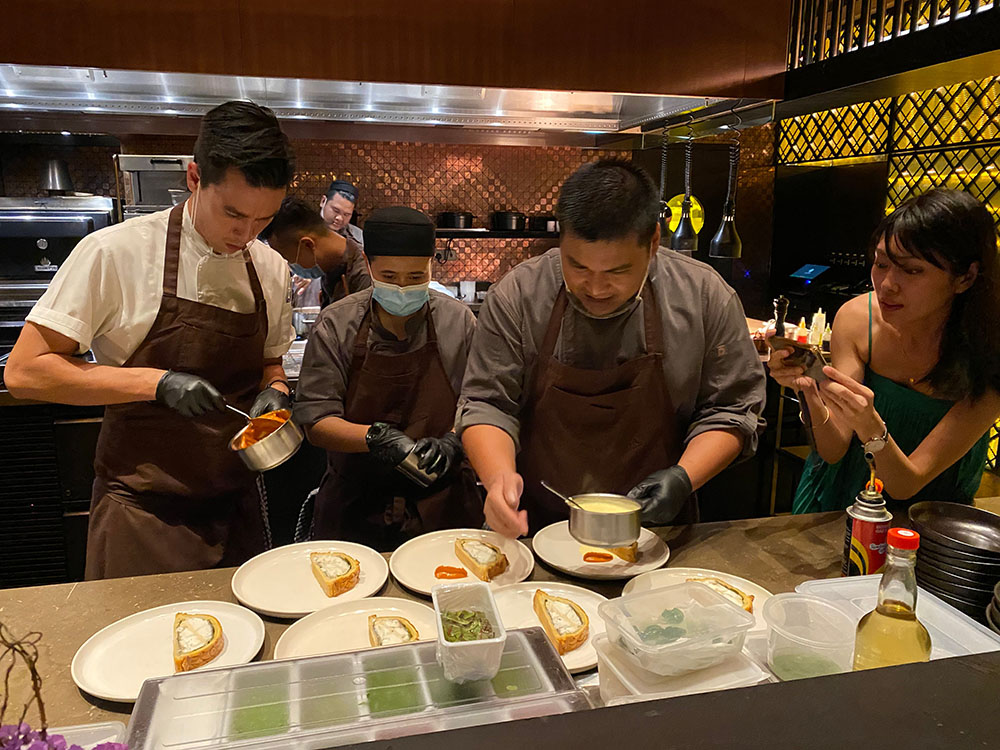 ---
1: SCALLOP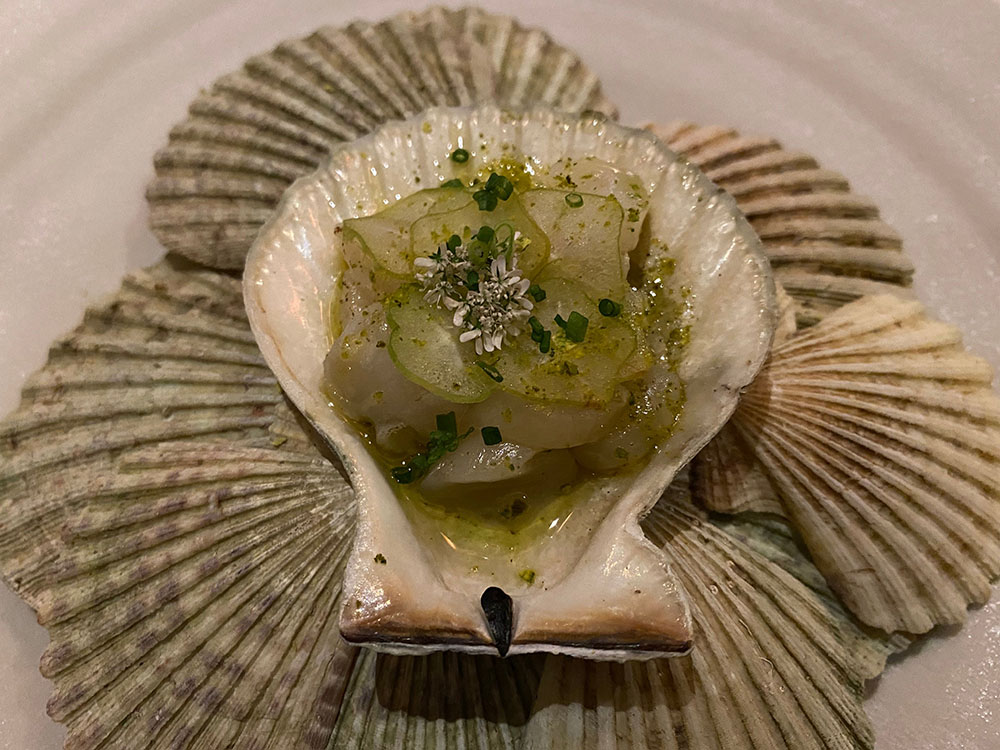 What is it? Fresh scallop from Sabah, sliced, torched, seasoned and served on its shells.
How did I like it? The scallops were sliced into smaller pieces (instead of whole), torched, and then lightly seasoned with kaffir lime zest, thinly sliced belimbing buluh, olive oil, and salt. This was easy to like. I like picking each chewy scallop and savouring the subtle flavour combination. I have both scallops and belimbing buluh in my garden at at moment. As a cook and a gardener, I was pleasantly surprised to see how easy it is to elevate fresh scallops – spice from kaffir zest, sourness from belimbing buluh, fats from the oil, and salt. Its a lovely starter.
---
2: SEA URCHIN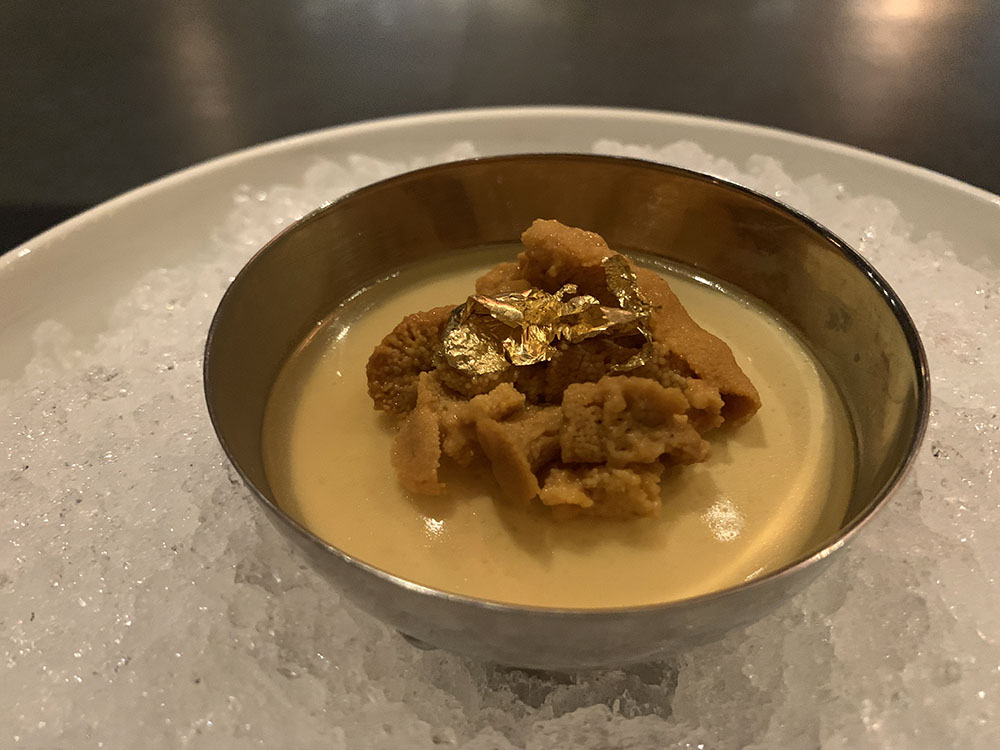 What is it? A rich sea urchin custard with tiger prawns inside topped with a generous amount of mousse-textured sea urchin, garnished with gold foild, and served on a bowl of ice.
How did I like it? I always have a reservation for sea urchins; I have yet to acquire a taste for it. The custard is rich; I happily ate the chopped tiger prawns inside, but it was too rich for my palate (I'm the type who'll choose aglio olio over carbonara). So my dining companion eagerly took half my share and scooped every last morsel of it. In his words: Uni custard. Tiger prawn base. Rich gel texture. Sublime. I've always thought that uni is only available in countries like Japan. But Malaysia does have it too. Unfortunately, it's the only seafood that was not local that day due to the supply issue.
---
3: STONE FISH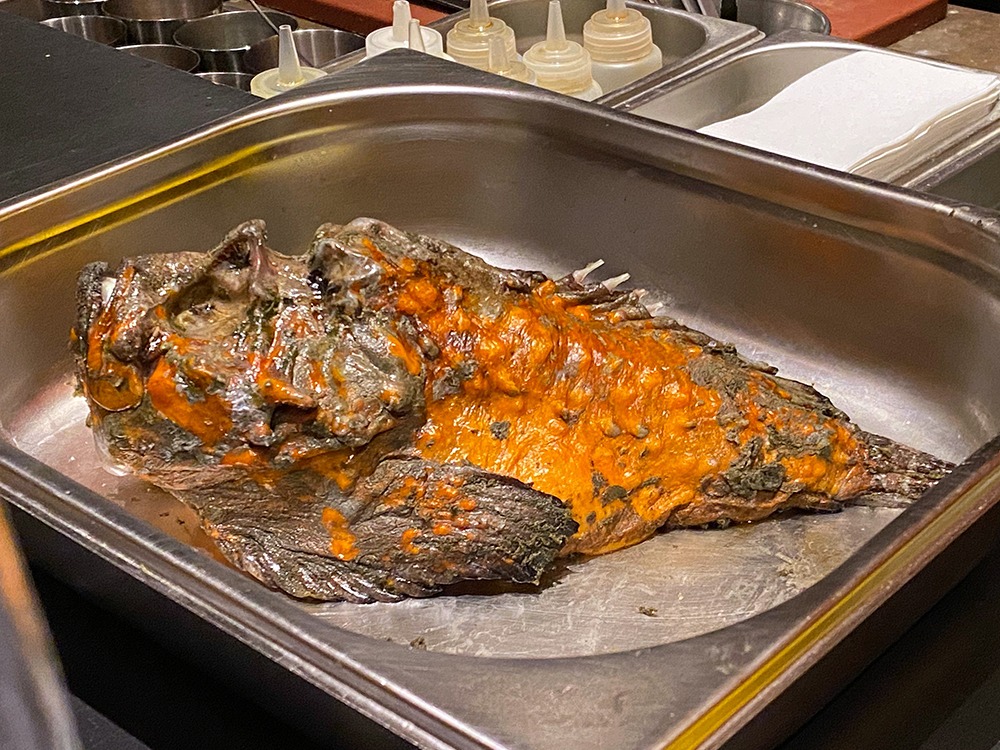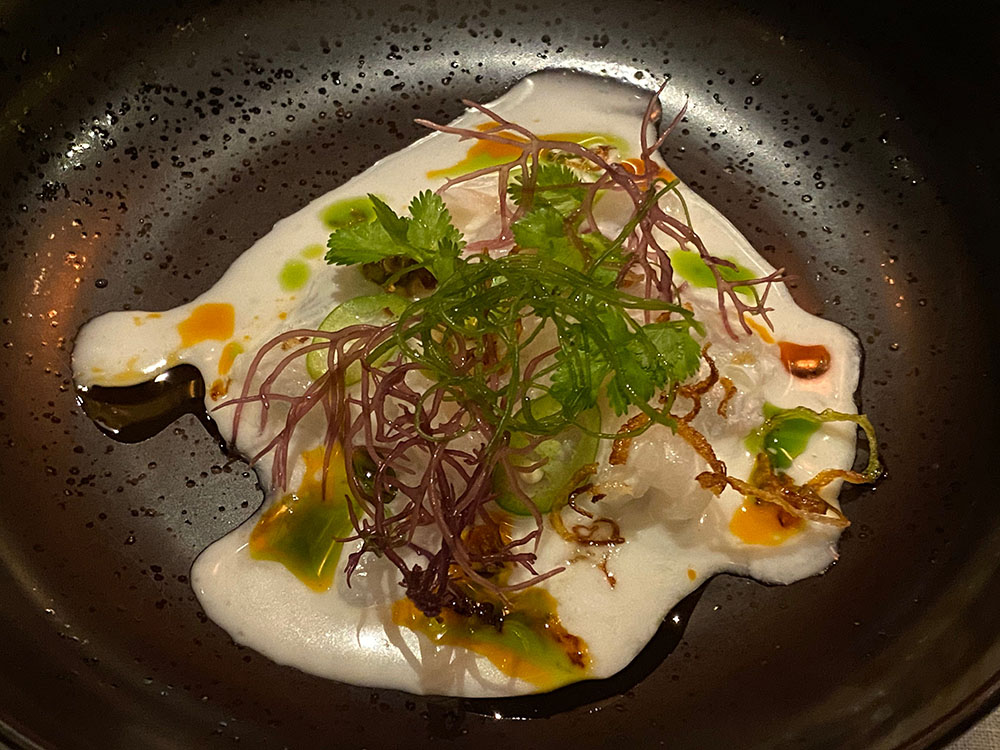 What is it? Raw stoned fish with hand-pressed fresh coconut milk, lime juice, fried shallots, coriander oil, chili oil, and garnished with seaweed and coriander leaves.
How did I like it? Part of why I'm at the chef's table is to try local unknown seafood from Malaysia's shores. Malaysia truly has a variety of food – including a ceviche (raw seafood)! This stone fish ceviche inspired by a Sabah ceviche called hinava. It's cured in three types of limes – kaffir, calamansi, and key lime. The sauce was a delight! As I often make nasi lemak with coconut milk, I know how rich coconut milk is drunk by itself. But the richness is beautifully balanced with the citrus and flavour enhanced with chili oil, coriander oil and leaves, and, most importantly, the fried shallots. The seaweed texture was also a beautiful addition. This is probably the most outstanding dish of the night.
---
4: ABALONE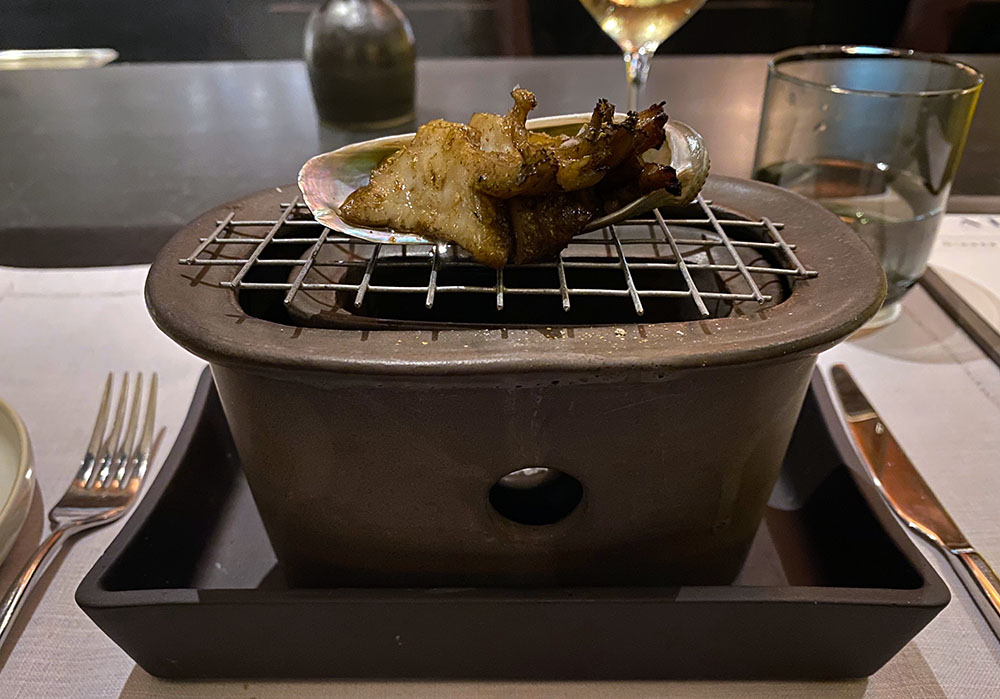 What is it? Poached and grilled abalone. It's glazed in juice from its liver and smoked. 
How did I like it? It's the first hot dish and one of my favourite of the night. I saw it being glazed and barbequed on charcoal grill. The abalone, was then placed in its original shell, and served on a custom-made mini ceramic grill.
It was interesting to note the grain of salt against the smooth abalone skin, a sensation that I enjoyed. I loved the meatiness and umami taste of the abalone, a reminiscent of mushrooms. This smoky dish that warms my throat pairs well with chilled white wine. This was when I drank more than usual, and the fun began.
---
5: CONCH
What is it? Fried conch served in its shell,  and three types of dipping sauce: verde salsa, dijon mustard, and smoke tomato ketchup. 
How did I like it? The only seafood that I normally have fried is fish, not sea snail; but I loved it! The thin crispy texture was. I liked dipping it in tomato ketchup most – perhaps the sour taste complements the fish (and suit my taste bud more). The fried conch was about the size of my longest finger. So small, and so delicious, this is the dish that I wish I had another one of!
---
6: SEA CUCUMBER
What is it? Sea cucumber braised for two days and served in sea cucumber consomme.
How did I like it? Chef's Tyson most experimental dish of the night, and unfortunately not my favourite. I do like the gelatinous texture of sea cucumber. After all, my family cooks this occasionally, especially during Chinese New Year. Perhaps the consomme was too one dimensional. I felt it was a little too fishy, and the local caviar despite giving a nice texture, only accentuate it. There was some cucumber for crunch, nasturtium, and its oil. 
---
7: TIGER GAROUPA
What is it? Fish Wellington. Tiger garoupa fish wrapped and baked in pastry, and served in roasted bell pepper sauce and beurre blanc sauce.
How did I like it? This is one of the most exciting dish. It's so enjoyable to see beautifully carved fresh pastry before the dinner begins, the baked pastry right out of the oven, and seeing the chef sliced through it! The rich and harder pastry, and subtle and softer fish, contrasted beautifully. The fish was baked just right – moist, flakey, and natural taste of fresh fish.The roasted bell pepper sauce and beurre blanc sauce provides additional flavour. Loved the former! 
---
8: SEA GRAPES

What is it? Coconut and calamansi sorbet, sea grapes, calamansi zest, and tuak.
How did I like it? This is my kind of dessert – light and citrusy. I like biting into the little sea grapes, and feel it burst to reveal the salty flavour of the sea. It complements so well with the sour citrusy sorbet! I like the hint of tuak as well. I scooped every last drop of liquid.
---
9: MACARON
What is it? A burger-size macaroon with white rose chocolate and raspberry. 
How did I like it? The Chef said it's bigger than he envisioned, but I was glad. Sweet but well-made. I loved the creamy white-rose chocolate, and the sweet and soft raspberry that was surrounding it. 
---
10: COCOA

What is it? Dark chocolate cubes from Pahang and lapsang souchong tea, topped with dehydrated wild betel leaves.
How did I like it? This is sublime. Delightful dark chocolate from Pahang, sourced from the north of Raub. I didn't know that Malaysia produced such delicious chocolate. It's paired with cubed 'parfait' made with smoky lapsang souchang tea. It was a joy to eat both of the sweet and soft desserts, with salty caviar and crispy betel leaves. It's paired with cognac. I had it neat. And so I was the happiest girl that night.
---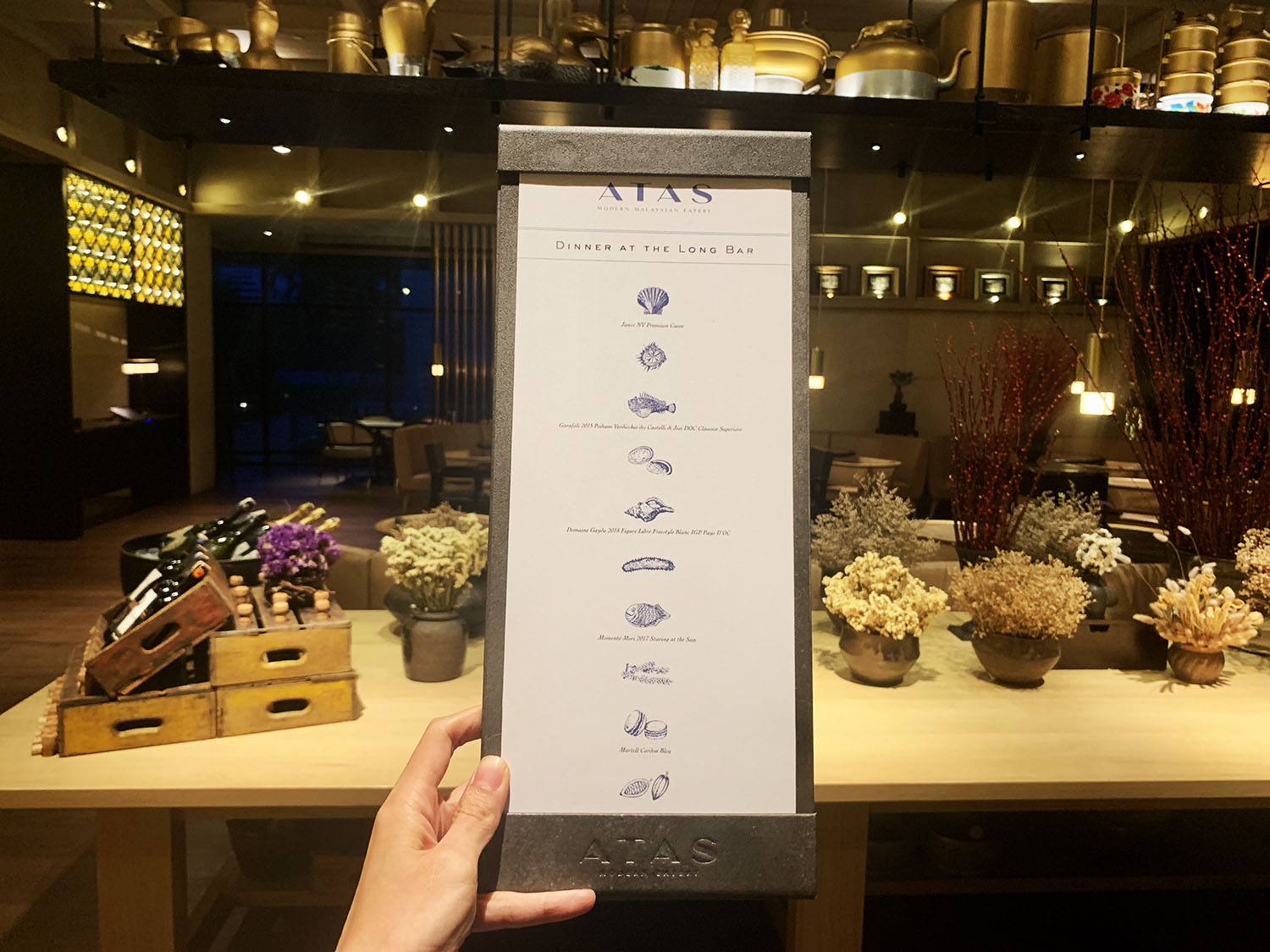 DETAILS:
Booking
Chef Table event happens only once a month and seats eight people
Menu changes monthly. The menu above, for example, is unlikely repeated
You can make a booking through their website 
Opening hours
Their usual opening hours: Tuesday to Saturday from 18:00 – 22:00 | Sunday from 11:30 – 15:30 (Sunday brunch only)
However, this event happened on Friday night at 7.30 pm
Location
ATAS Modern Eatery is situated on the first floor of Ruma hotel. This place is not too far from KLCC and Pavillion.
---
IN A NUTSHELL
FOOD:

 The seafood was so fresh that it can be eaten raw. On top of top quality and locally-sourced ingredients, the chef did a great job designing the menu and playing with flavour combinations.

PRICE

: RM 398+ per person. It's an excellent price, especially considering wine pairing is included.

SERVICE:

 Friendly and knowledgable chef with a team of genuine and competent staff.

AMBIENCE:

 Seated at the bar and interacting with people make the experience feels casual and relaxed.

RATING:

 8/10

WILL I COME BACK?

 Yes! For both of their degustation menu/ regular ala carte dining & Chef's Table event.