Although I've dined Rama V only once, I remembered it well. It was a beautiful restaurant furnished with wooden interior, surrounded by ponds with lotus blossoms and offered delectable Thai food. Naturally, I'm delighted to get my hands on Rama V Cookbook and marked many simpler recipes with post-it notes such as Tom Yum Kung, Thai-styled grilled steak with tamarind sauce and Chestnut in Coconut Milk Dessert.
Though I love to cook, I believe in the importance of simple recipes with a short list of ingredients. Such recipes makes cooking easier and encourage us to cook more. Here's a dish with most of the ingredients already in my pantry: fried chicken in pandan leaves. The only downside is that, it is rather laborious (you need to wrap the chicken, steam and then fry them). But boy is it pretty. I think its perfect to serve at dinner parties!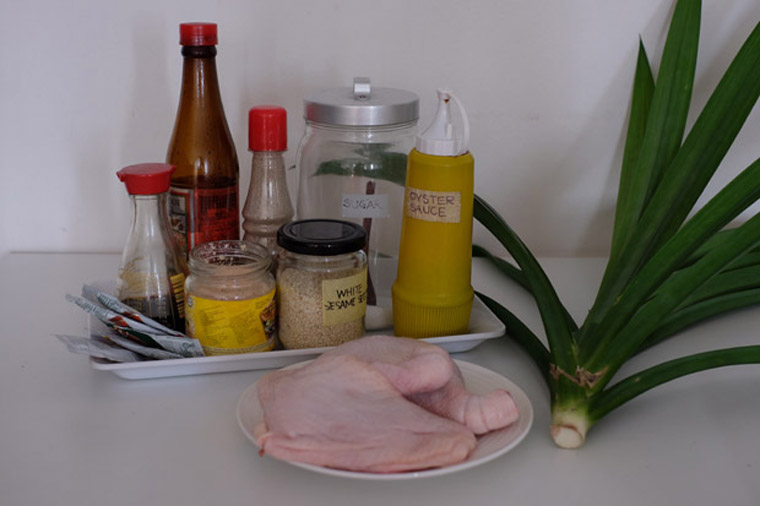 ---
TOOLS
Wok with lid
Steam rack
Tray lined with a few layers paper towels
---
RECIPE CARD
THAI PANDAN CHICKEN
23rd December 2015
: 4-8
: 35 min
: 25 min
: 2 hr
: High
Crispy chicken wrapped in fragrant pandan leaves
Ingredients
500 g (2 pcs) Chicken thigh
2 tbsp Oyster sauce
1 tbsp Soya sauce
1 tbsp Chili sauce
2 tbsp Tomato sauce
2 tbsp White sugar
1/2 tbsp Sesame oil
2 tbsp White sesame seeds
1/8 tsp White pepper
2 tsp Chicken stock powder
16 pcs Pandan leaves, large
2 cups Cooking oil
Directions
Step 1

Gather all materials and tools.

Step 2

TO PREPARE CHICKEN: Debone chicken thigh and chop into sixteen chunks (Keep bones to make chicken stock).

Step 3

TO PREPARE MARINADE: Add oyster sauce, soya sauce, chili sauce, tomato sauce, sugar, sesame oil, sesame seeds, white pepper and chicken stock powder in container with lid. Mix well, add chicken chunks into it, pop it in the fridge and let it marinate for 1 – 2 hours (or overnight).

Step 4

TO WRAP CHICKEN: Fold pandan leaves according to the photo below. Scoop marinated chicken onto one pandan leaf and roll leaf around the meat to wrap it up. Repeat until all chicken is used up.

Step 5

STEAM CHICKEN: Place wrapped chicken on a plate suitable for steaming. Add water into a wok with steamer. Turn on the heat to boil. Once boiling, add the plate of chicken and let it steam for 15 – 20 minutes until the chicken is cooked.

Step 6

FRY CHICKEN: Heat up the cooking oil in a pot on medium heat, then deep-fry the chicken for about 5 minutes.Remove excess oil and place on a tray of paper towels.

Step 7

Dish out onto a plate and serve.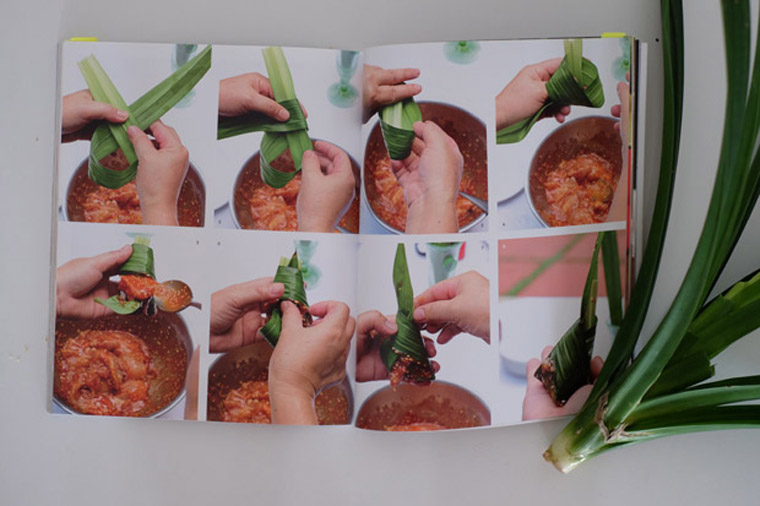 ---
SHORT RECIPE
Marinate 500 g chicken thigh chopped into 16 chunks with: 2 tbsp oyster sauce + 1 tbsp soya sauce + 1 tbsp chii sauce + 2 tbsp tomato sauce + 2 tbsp sugar + 1/2 tbsp sesame oil + 1/2 tbsp white sesame seeds + 1/8 tsp white pepper + 2 tsp chicken stock powder. Wrap each piece in pandan leaves. Steam until cooked (15 – 20 min). Fry until crispy.
---
COOKING TIPS
Ingredients in the original recipe uses 'gram', I changed them to tablespoon as it's much easier for a home cook.
Rama V suggests 30 g tomato sauce. I found that's equivalent to 3 packets of tomato sauce that you get from fast food restaurants (I ran out of bottled tomato sauce!)
You will be left with quite a bit of sauce from the marinate. Keep it to marinate more chicken and stir fry them with mushrooms.
Although the chicken is already cooked through steaming, it's important to fry the chicken for 5 minutes as suggested. This imparts the fragrance of pandan into the chicken.
If you want the chicken to look prettier, after wrapping the chicken, cut off excess leaves on top and leave about 2 inches.
If wrapped properly, the pandan chicken can stand on it's own.
Have fun wrapping it!